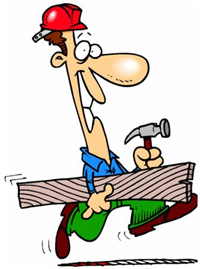 We were up bright and early, the sun was already shinning and there wasn't a cloud in the sky, so a good breakfast was in order, a brew of, yes, coffee and into the car and set off to our site, with the question "Will there be any workmen on site?"
As we turned on to the track from the main road, I noticed a builder's truck opposite the turnoff and jokingly said "Oh I wonder if that's our builder" and now he's saying "Oops better get there the English are here!" As we turned on to our site, we saw that in fact we did have a builder! Yes a single builder complete with wheelbarrow and bucket, pouring amounts of water from the well into the holes in the ground, so maybe the truck was nothing to do with us! He came over and in Portuguese and with hand gestures we were able to ascertain that he was waiting for the cement mixer lorry to arrive. So the builder at the edge of the main road was to do with us and turned out to be his mate waiting for the cement lorry to show him the way.
A short while later, this huge cement mixer came up the lane and stopped at the edge of our site. There seemed to be a lot of head scratching and gesturing between the lorry guys and the builders, obviously discussing how to deliver the cement. A little later the lorry backed down the lane again, to a point where it could turn around and then reversed back up the lane, God these drivers are good.
In the time it took, the two builders had opened up a new track onto the plot from the lane and the lorry was able to back into a position where it could make its delivery.
For about an hour the cement came down the shoot and the builder's wheel barrowed it away and tipped it into the shuttered areas. That done, everyone just disappeared, well I guess the cement needs to set.
Whilst this was happening we were getting on with the annual clearing of the winter growth and quickly found that we also had a borehole. This had obviously only been completed at the end of the previous week and whilst Marco was aware, Paulo the architect had not been advised so nor had we. All this was ok; it was pleasing to see that things were progressing.
So now we have electric and water. Progress!