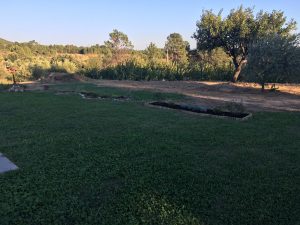 The next project we wanted to tackle was the section of land just the other side of the new flower borders. This was the site of the original brick hut that we had knocked down a while ago.
The area, furthest from the house we are using as a composting area. The rest of the area was very rough and just grew weeds, however over time the clover/grass from around the house has started to spread over this area and with the work we have done on the flower beds it seems to have naturally smoothed this area a fair amount, so much that I am able to run a lawnmower over the area. To encourage the clover/grass to spread and grow, we decided we should add some irrigation (water spray) to the area, and run tubing up the area enough to allow for us to add a raised vegetable bed at the top end near the house.
We have started to put in the tubing for the watering, there is still a way to go as we are learning how to make it all work, as we go. Here are some photos to show what we are taking about and shows how far we are at the moment.
I know it seems a strange time of year to be installing watering as it is the wet season, but with the ground being wet, it is far easier to did the trenches to bury the tubes. In the summer the ground is so hard, it is impossible without a machine, so do it now then it will be ready for the spring, hopefully!
We are having a few teething issues getting the sprinklers to work properly. I put 4 pop ups sprinklers on the tube but there doesn't seem to be enough pressure to run all 4. I can run 2 perfectly, but not 4.
I took the decision to lay a second tube so that if I can't solve the issue we can run 2 on one and two on the other, albeit it be at slightly different times, but the controller allows for that. Maybe not the correct solution, but it should work. I still have to connect up the second run.
The parts are not expensive so it's fine, and even if I do work out the issue I can use the second run to set up an alternate feed to the vegetable patch when completed. I suspect we will need a different watering regime for the vegetables and grass anyway. I will blog again when / if we resolve the issue.
We still have to work out how we are going to construct the raised vegetable beds. Any suggestions just email me at ian@casaneroli.com