We have never been able for one reason or the other, mainly work, to harvest our olives. This year as we are now both retired we took the decision that we would. We were keen to convert some into oil and have some for eating.
We have some friends who live not too far away, who had harvested their olives the past couple of years, so we spent a couple of days helping them to harvest theirs and to follow the process through with them to convert the olives into oil. We then could follow the same method to do ours.
The first thing to do was get the necessary equipment, we already had ripadors that our friends have given us after helping them. We just had to get a large net to lay on the ground under the tree to catch the olives as they fell, a few crates to carry the olives about, a couple of large buckets to do the sorting and some bags to be able to get them to the press (lagar). We then just needed a few days of good weather.
Teresa and I spent 5 days harvesting what we needed to be have our own oil at the lagar. They set a minimum amount because the lagar processes in batches and a minimum batch is around 500kgs. It wasn't hard work, but it was very tiring.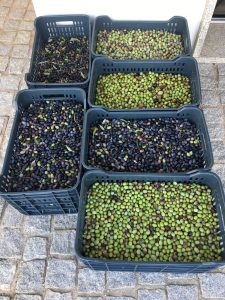 We would start about 9:30 in the morning ripping the olives from the trees, work up to about 1:00pm stop for some lunch, then carry on from around 2:00pm until 4:30ish, when it started to get dark. Most days we could harvest about the equivalent of 8 crates (we only had 6) but it was dependant on how rich each tree was. Some days we only did 6. After cleaning ourselves up and having dinner, we would sit and sort the twigs, leaves and any bad ones out, then bag them into 20kgs bags, just because that's amount all I wanted to carry at any one time. The bathroom scales came into play here.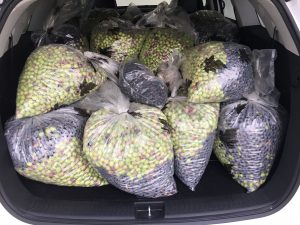 ………..
On the Sunday we loaded the car, oops may have a bit more than the car should be carrying and made our way to the lagar, we made it OK. There a many lagars around, but we used the same one as our friends had used, for obvious reasons, plus they spoke English which helped.
We actually collected 520kgs of Olives, which produced 77 litres of oil. We paid for the processing in oil, this lagar charges 19%, so we drove away with 64 litres. We were over the moon, not bad for a first attempt.
You can pay the lagar in cash for the oil if you want it all, but it just makes sense to us to pay in oil. All we had to pay for was the containers to take the oil away in, cost was about 6 euros.
If you want to know any more, I will always try my best to help. Please email me at ian@casaneroli.com
Here are a few photos which followed the process. (Click on photos to see Gallery)
The last few in the hopper

Washing the Olives

Pressing into a mush

Spun in the Centrifuge (green and silver machine on the left)

Here comes the oil

Final product back in the car