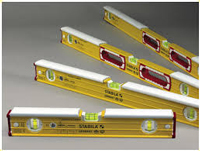 We met the Architect/Project Manager and the builder on the Wednesday and had a productive hour or so, just going over the minor changes that were necessary and looking / deciding on the alternatives. The main issue was that due to the changes in level of the land from one end to another, if we stayed with the original plan the entrance to the garage would be 800mm higher than ground level, not very good to be able to get a car in eh!. Equally to drop the whole build by 800mm would not be good either, so we agreed to do a half and half drop one end by 400mm that would leave the garage end 400mm up, but as it was the garage we are allowed to have a step of 185mm up from the garage to the house level, so that would only leave the floor level 215mm high, that we could easily overcome by raising the ground level up to the entrance.
In the same visit we also discussed the construction of a small pump house at the same location as the borehole. This was the first time that Marco and Paulo had actually seen the borehole. It was positioned well, but of course we would need a small pump / pressure house to get the water from the borehole to the taps. This was going to be additional cost, but we did know this as explained in earlier blogs the connection of the electricity and the construction of the water supply were outside the building cost. We have budgeted for these and for a pump house but we will have to wait for the quote from Marco to see if we are close, fingers crossed. I will let you know the cost and how close we were when we get the price.
The next time we saw anyone was late on the Friday, around 5:00pm when the two builders from earlier in the week turned up and removed the shuttering from around where the concrete had been poured on the Tuesday.
We spent the majority of the week doing the usual gardening type chores and having days out. It is also worth saying that the weather for the time of year was superb, no rain, clear blue skies every day and temperatures of between 23 and 27, so absolutely superb. It is amazing how good weather like this can cheer you up 🙂
Amazingly, even with these temperatures we are only just 25 minutes away from the mountains and the skiing resort, not that we ski, but maybe we are going to have to start!
The views are stunning and it was amazing to see so much snow was still about.
Different eh!