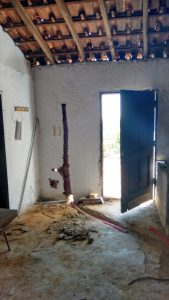 At the start of the building of the house project, we needed to get electricity on the site. The main supply, delivered by overhead cables was already to the edge of the plot so we just had to drop a connection down to a meter and connection box.
In conjunction with the builder we decided to go one better, after the meter connection we would run a cable to the new house where the internal MCB panel would be and a further connection to the shed, so we had power we could use on our trips.
It was a great idea and worked well, but later as the new house came to completion and we thought about demolishing the hut, the power supply to the hut was now a problem and would have to be removed before we could even think about demolishing it. This was further complicated because we had a supply now running from the hut to the new Pool room plant room.
So Phase 1 was to work with the electrician who had worked on the house and get him and his team to sort the power and run new supplies to the new pool plant room and remove everything from the old hut.
At the time of writing that has now been removed and we are free to get the hut demolished.
So who does that we ask?