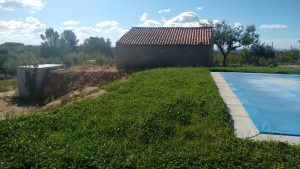 The original hut that came with the land when we brought it is just in the way of the view towards Monsanto, so it has to go. It's been great having it whilst we have been building the house, somewhere to get out of the sun or the rain when needed, plus a great place to store all our bits.
The builders also put it to good use for the storage of tools and materials, but that is all done now and the building is basically empty.
We also now have the garage which came with the extra piece of land we brought later in the process and that is perfectly adequate for all the storage we currently need.
In many ways its seems a shame to remove it as it has history with the plot, but at the end of the day it is just old bricks and tiles and just is in the way of the view so it has to be demolished.
So that's the subject matter on this project, the demolishing of the hut and its disposal.