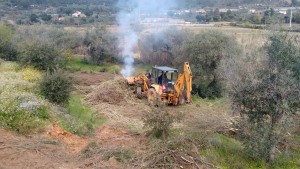 It was a wet start to the month so the work on the agricultural element of the project was delayed yet again. However, around the middle of the month the weather improved enough that the work could really get under way. We were aiming to visit at Easter which was towards the end of the month, so there was a good chance of some real progress. The one thing we have seen with the agricultural team retained to do this work, was that whilst they seemed typical of Portuguese tradesman to get them on site, they were always very keen to impress, so knowing we were on our way, did give seem to give them some real energy to get on.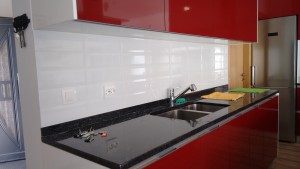 There was a couple of other jobs that seemed to progress well during March one was the tiling between the cupboards and the counter tops in the Kitchen, and the other was the painting of the pool/plant room,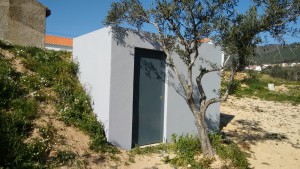 the team that came to do the tiling was able to do the painting as well whilst they were on site. In both cases they did an excellent job, both jobs were in our opinion finished to a really good standard.
We arrived at the house on Easter Saturday and on the Sunday were able to inspect all the work; the work on the land was well underway and progressing well. As expected the team doing the work had been a little over zealous in places, but we had expected that after hearing about them from a previous client of theirs. As you can tell it didn't put us off, we were told they do an excellent job, but can do a little more than you anticipate. The trenches were in place for the main irrigation pipe runs, and ramps between the tiers on the land were roughly in place.
Unfortunately, we received some sad news from the UK on the Monday so had to return to our home in England.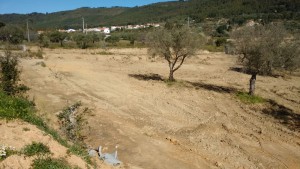 We did however manage to meet with Paulo our Project Manager and the guy from the agricultural firm doing the work on the land to have a quick review of the work before we left, just because the meeting had been previously arranged.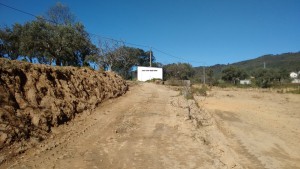 Subsequent to returning to the UK, we have had further updates and the irrigation system and land clearing is progressing well. We are sure that now the work in underway, it will get completed as long as the weather holds out, which on the day of writing we hear it is a tad wet.