Just a short blog about getting the electric reconnected, in case you have to do anything similar.
We feel we have to emphasise once again that having a project management team in country that are familiar with local services etc is so helpful and removes so much of the stress from getting things done. All we had to do was to give Pedro our Bank details and he was able to contact edp (Portuguese Electricity Company) and pass on our details. The same day we received an email from edp with the contract, which we had to sign and return. Printing and signing was a bit of a problem, no printer, but again a quick email to Pedro and he was able to print it off for us and bring it to the site meeting on the Friday for signing and he posted back to edp.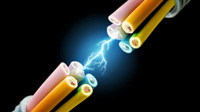 edp didn't wait for the signed contract which was extremely helpful and the electricity was flowing again by the Friday morning, so not bad 4 days, for the Portuguese that's excellent.
A few days later we received an Invoice (Facture) via email, which included the arrears that we had paid to Marco, the charges for the period of August up to the day they cut the service and a reconnection charge. We were a bit surprised on the arrears front, but again a quick telephone call with the Project team helped clear up things. The invoice had crossed Marco settling the arrears, so that had now been cleared all that was left was a few Euros for the reconnection and estimated bill for the Month, which Paulo agreed to pay for us and we will settle up with him when we next meet up with him.
All the following bills etc should now be on Direct Debit so hopefully there should be no issue. We will blog again at some point in the future and confirm or not what happens and perhaps then be able to give you some idea of what the charge rates are like. Rates are a bit different to that in the UK, it looks on the surface that edp charge a daily rate for the connection of about 56 cents and then so much per Kilowatt hour, Normal rates looks like its about 16 cents a kWh (Kilo Watt Hour) it looks like there are 3 charging rates for different parts of the day, each I am sure having a different rate.
There seems to be different times for each period in the Summer against the Winter and the times in each rate change. Below is a table I managed to find on the edp site today, which should give you some idea.
Words that will help you understand the table
Inverno = Winter
Verao = Summer
Segunda a Sexta = Monday to Friday
Sabados = Saturday
Domingos = Sunday
Ponta = Peak
Cheias = Normal
Vazio = Cheap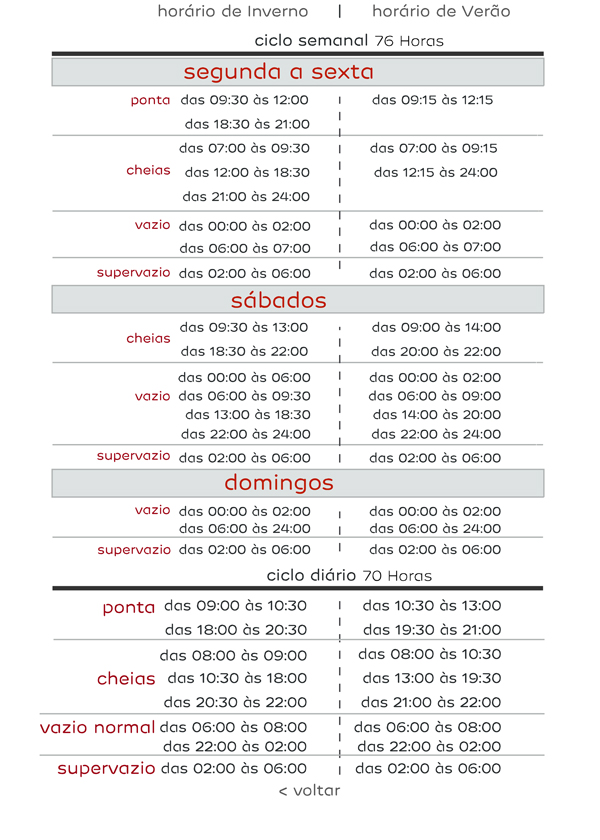 So all in all, having the Project team was so helpful and we were reconnected in just a few days. Let's hope it stays that way.