Its seems the Portuguese for some reason seem very reluctant to actually do any building work whilst we are on site! Not sure why, but this has happened a number of times now. So you will guess form the last few blogs as we were there for the first 2 weeks, progress has been reduced, which of course is to be expected with the house coming to completion, but there are the snagging items and we have asked for a number of additional works.
Saying all that we have seen progress and a reasonable amount, whilst disappointingly the kitchen remains empty, although we have the electrical items now and some of the additional work has been or is in the process of being completed.
The drive is now complete, and the preparations for the fence down the side of the land is well underway. Also Marco has managed to arrange for a team to come in and prune all our Olive trees. The pruning seems somewhat drastic, but we are advised its good for the trees and whilst it will adversely affect the crop this year, next year should see a real improvement. They did need doing we have had the land for 4 years now and I don't think they had been touched for a few years before that as well. Time will tell I guess.
Drastic pruning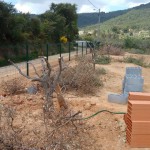 Drive done
Fencing under way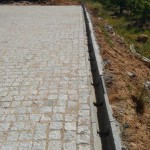 No Kitchen yet!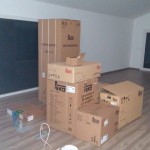 The absolute worse thing of all, is the cherries are ripening early this year, hope there is some left for when we get there and the builders haven't filled their boots!