We were following the same route that we have done at the end of 2011, crossing from Newhaven to Dieppe on the ferry, and then driving down through France and Spain into Portugal. The plan was to complete it over 2 days, we now knew it was almost exactly 1000 miles door to door and the more we could do on day one the better.
As planned we made 600 miles the first day to get to Bayonne, which is very close to the French / Spanish border. Again we hadn't made any arrangements for a hotel for the night, but last time it wasn't a problem.
This time it was very different, everywhere was full. The outside temperature we had noticed was increasing as we made our way south over day one, whilst this was pleasing; everyone likes good weather when on holiday, and we were in a lovely air conditioned car, when we got to Bayonne it was hitting 40oc. This actually was quite uncomfortable, especially as we were tired from the journey and couldn't find anywhere to stay for the night. Eventually we were pointed in the direction of a Quality Inn, not sure the name reflects reality, but beggars can't be choosers, and we forked out the €79,00 for the one night.
After a visit to the local McDonalds for something quick to eat and the supermarket for a top up of snacks for the next day, we headed for bed. It was a very uncomfortable night, the bed was hard, there was no air conditioning, just a small fan, but we did get a couple of hours.  Up again at 3:00am it was at least a bit cooler and we set off again.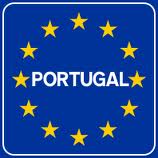 As we approached the border between Spain and Portugal, we once again started to try to work out how this motorway toll system was working. We thought maybe there would be something at the border. Nope, nothing there, as we drove though the first village, no nothing there either. We then approached the motorway. Where the heck was this registration thing we had read about? We turned off so as not to go on the motorway, but we couldn't see anything. In desperation we said well lets just go on the motorway and hopefully there will be something at the first service station. We knew there was a service station not too far from last time.
We did pass under one of the charging gantries after a very short time but it wasn't long before we got to the Service station. As we approached the motorway service station, we saw a sign "Strangers register here", thank goodness. We pulled into the service station and there was a complete new area built, with lanes all marked out and loads of official looking people walking around directing cars.
Yes they have sorted it and I guess we were lucky as we were one of the early visitors there was lots of help. I suspect now it is left very much to the driver, but if you are driving and coming this way, it is quite easy, you just join the queue, when you get to the front a camera registers you car number plate, and you put you credit card into the machine to the side, a bit like when you exit a car park.  That then registers your card to your car, you get a receipt and that's it your good for the next 30 days. The charges will appear over time on your credit card bill.
We knew that Jules and Andy were about a day behind us, so a quick couple of texts to let them know the protocol for the motorway tolls and our good deed for the day is done.
We arrived at our property around midday, unloaded everything from the car, and had a quick walk around to see the state of everything. Yes everything was quite overgrown; I think we are going to have a busy few days.