It was time for the off.  The cool box was loaded with bacon and eggs, we had what to most would have been a month's supply of freshly ground coffee, which by the way was spreading the most wonderful aroma around in the car. With all the other bits and bobs, we felt we may need. Everything fitted quite nicely into the boot of our Hyundai ix35. Fitting everything in the boot was important as we knew we couldn't make the whole journey in one go and we didn't know if we would find a hotel for the night, so had packed blankets and pillows so if the worst came to the worst we could sleep in the car, so really needed to make sure we had some room.
We also make a couple of crucial decisions before we set off. We were going to enjoy ourselves, try to be as relaxed as possible after all it should be a holiday as well, in fact it was really a holiday with just a fact finding trip built in, giving us a little more of a purpose to the holiday. We only wanted to see what possibilities there were and whatever happened we would not buy anything this trip.
The ferry crossing was great, although at night we did manage to get some fairly comfortable seats and managed to get a little sleep. We arrived in Dieppe around 3:00am and set the Sat Nav for Proença-a-Nova and off we went. Most cars turned left and headed out on the main road, our Sat Nav told us to go right and head for the center of town, huh! Oh well maybe they are going to different places to us. Through town we went and was soon heading off towards Tours, which we knew was right.
We drove for a couple of hours and were able to maintain a good speed with just the occasional slow down as we went through a town. Just before daybreak we thought it was time for coffee, (do you detect a theme yet?) I was kind of hoping to find one of those picnic areas that we had always seen on and used on the motorways in previous years but  we hadn't seen any yet, somewhat odd but never mind, there's a lay-by that will do, we are probably not down far enough yet. Out came the stove, on with the water, on with the milk, coffee in the cafetiere and a few minutes later we were back in the car with our large insulated mugs of freshly brewed coffee and back on our way, leaving a somewhat bemused French lorry driver observing us in the lay-by.
We drove for around another hour and came up on the motorway, at last we thought we can get some real miles or should I say Kilometres under our belt. After about 10 minutes the Sat Nav was telling us to turn off the motorway again. What! This is stupid; shall I ignore it or what? The decision was made ignore the stupid thing, carry on the motorway. Well for the next period the Sat Nav still kept telling us to turn off the motorway, I can't think this is right, when Teresa suddenly said, "You haven't told it to ignore motorways have you?". "No of course not" I retorted. Hum, but maybe I did tell it to ignore toll roads! Yep you guessed it! A quick reprogram on the settings and it announced "Keep on this Road (the motorway) for the next 250 miles…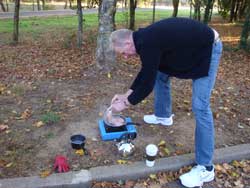 The rest of the day went well, stopping around 9:00am and frying up eggs and bacon along with the yes you got it more coffee. We stopped every couple of hours for more coffee, it was great apart from making us take a break as they say when driving, the coffee also helped in keeping awake.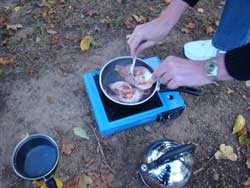 -oOo-
As we got to mid afternoon around 3:00pm we had, had enough, the time between breaks was getting less so maybe we should call it quits for the day. We had done really well as well, we had calculated that the whole journey was about 1100 miles and we were approaching the 600 mark.
A quick check of the map and we were approaching Bayonne which was just on the French / Spanish border, so enough. 15 minutes further on we turned off the motorway as almost as we pulled off we sighted a Formula 1, tired and hungry we said well let's just go for it. We were in luck, as we hoped there were rooms available and 36 Euros for the night it was a steal. As we came off the roundabout towards the hotel we noticed a KFC (Kentucky Fried Chicken) so a known quantity, it was a quick check in, a stroll down to KFC for some, well what was the French version of KFC which we renamed as KFP            ( Kentucky Fried Pigeon) you guessed it not much meat.
We were back in the F1 by 5:45pm and after a quick email or 2 (they had free wifi) and setting of the alarm for 3:00am as we still had about 500 miles to do, without realising we were in the land of nod by 6:30pm.
We were up at 3:00am, a quick shower etc and back on the road by 3:30am. The rest of the journey continued in the same vein, stopping every couple of hours for coffee and cooking up a feast and when we needed food.
We hit the Portuguese border early morning and the clouds that we has seen since day break began to break and the sun came out, welcoming us to the country, a good sign, things were feeling right. A couple more stops for the, yes you got it proverbial large cup of freshly brewed Columbian. If you have read this far, I guess its only fair to share with you the type of coffee that has us hooked.
Around lunch the Sat Nav announced "your destination is on the right" and sure enough there behind a high rather pink wall was the hotel. Impressed with the accuracy of the Sat Nav we felt that checking in now was a bit early so spent the next 3 hours just touring around the area. We both agreed that it was exactly the type of area we were looking for and it felt very Portuguese! Don't ask  what that is, but it felt it. Late in the afternoon we reset the Sat Nav again and allowed it to take us back to the hotel. Checking in was interesting as they spoke no English and of course the only Portuguese we knew was Hello, Good-bye and Thank you, but we managed to check in and found our room. The hotel was supposed to have wifi, it did but it didn't work! After about an hour or trying to make the hotel staff understand my problem, I gave up and used my mobile to connect up my laptop and email and managed to fire off the required emails to the estate agent to let them know we would be with them some time tomorrow.
After a couple of Sagres beers and a somewhat disappointing meal in the hotel restaurant it was time for bed.