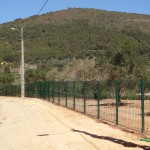 Finally the day had come, it was Monday and it's the day we get the keys! Excited or what, as I expect you can guess it wasn't too difficult to get up in the morning. We had a good breakfast and packed our bags back up and set off.
We had timed the journey to perfection, as we drove along I happened to see in my rear view mirror the recognisable car of Paulo, he too had recognised our car and followed us to the house. so we arrived together.
After a short discussion it was time, time to put the key in the door and make our way in. Well I can't describe the feelings that we had as we were introduced to our new house, all the designing, planning and building had resulted in this beautiful house, it was every bit what we wanted and more. Although not totally complete, it was more that complete enough for us to use.
I think it would not be justice if I didn't mention that both Teresa and I had a tear in our eye as we walked around.
Brilliant, just brilliant.
Enjoy these photos.