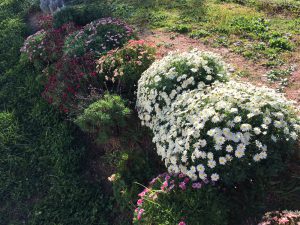 The Farm and Garden, so far have fared well during the winter, but now we are entering February, probably the wettest and windiest month of any year and all indications are this year is not going to be an easy year either. So far the work we have had done seems to be working, fingers crossed that it is affective enough this month.
There are a couple of things that still need to be done, but hopefully these are just improvements that will help ensure the work that has been done will last and a couple of corrective items.
In terms of the improvements, there are two things. The area where the two new tracks meet and the concrete tubes to take the stream are, has created an area on the high side of the buried tubes that can get very muddy when it rains, this we think is just due to drainage, but adding more is not really an option, some we are going to place an area of gravel, which should allow us to pass without getting too muddy, suspect we will have to top it up each year for a while until it forms a more solid area, but hopefully it should work.
The second job is where the new gutter we had put down the track, meets the old concrete tubes, which form a drain to take any water under the track into the stream, we want a concrete box put to stop any damage from any water flow.
The corrective/maintenance items, are to finish filling the holes crated by the damage last year, in the main they are done but a bit of levelling is needed. Then the irrigation system timer was not working properly so whilst we don't need it at the moment it needs to be sorted before we do. The reason to chase this is, that is difficult to get Snr Proenca to us at the best of times so we need to time it with the new work.
The only other thing is the grass cutting! God it's difficult to get this done. We have now purchased a suitable lawnmower, which we will take down next trip so hopefully starting this year we will be able to do some ourselves.