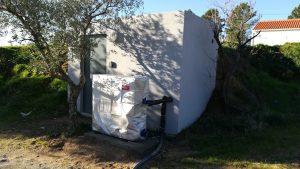 Quick update. Looks like the heat pump for the heating of the swimming pool has been placed and installation is well under way. Still some finishing work and commissioning to do, but looks like we may have heating for this year.
Unit is quite big, bigger than I expected, but the company doing the work did say that had to get a slightly better heat pump than originally specified so it should heat the water quicker, same price! Great that it has been installed out of view from the house, so will not interupt our beautiful view.
Looking forward to trying it all out.