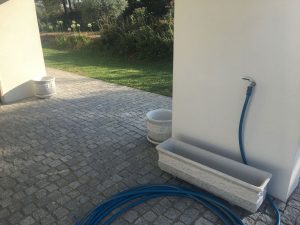 We felt as we are both retired now and spending a lot more time here, we need to make the place a bit homelier. We felt getting a few more flowers/plants around the place would help.
We have a lovely covered outside area on the corner of the house, we felt that some nice pots would look good.
The first job was to make sure we could get water to the area, so we could set up some automatic watering system for when we are away.
The builder had the foresight to put a water outlet in the area, it just needed a tap adding, so first job is to remove the cap and replace with a tap. Next add some nice pots, add a watering system and finally plant.
Here are some photos showing the progression. Things still look a little clinical, but we have the basic bits in place and we are sure it will evolve more as time goes on.